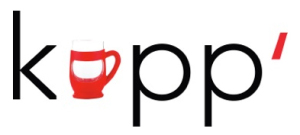 Yay for
Kupp'
, an eco-friendly, six-ounce glass with a colorful silicone sleeve designed just for kids! Children can choose their own personal Kupp', designated by color, to be in charge of throughout the day! Your kids will love these! They'll have their own personal Kupp' and they'll use less plastic!
My girls drink from sport bottles for the most part but this was a nice change for them. I usually don't love letting our kids use our glasses because little(r) hands aren't always coordinated enough to handle a large glass. They can be slippery so
The Kupp' is perfect with a handle perfect for smaller hands. This was created by Katesplace founder Kate Oliver as a tool to help her young boys learn accountability and responsibility. She gave each of her children their very own glass in a different color and put them in charge of their cup and all of the responsibilities that came with it, including setting the table, washing, and putting it away. She quickly discovered that she had a cleaner kitchen and her family consumed less plastic. As a result, the Kupp' was born in the form of a six-ounce glass with a colorful silicone sleeve designed just for kids!
Here's a little more about this fabulous product!
•The Kupp' is a six-ounce glass outfitted with a colorful silicone sleeve. It's designed for kids ages 3-10.
•The firm grip and silicon sleeve helps to protect the glass from damage while providing a safe, toxic free vessel to drink from.
•The Kupp' comes in four vibrant colors that represent the environment: blue for water, green for earth, orange for the sun, and red for warmth.
•The Kupp' is the perfect serving size for children, and allows them to become more conscious of waste and consumption.
•The Kupp' is made in the USA using imported glass, and all materials are sourced from environmentally-friendly manufacturers that adhere to EU and US regulations.
•All glass is recyclable, certified lead and cadmium free, and is made from a pure soda-lime formula. It is also dishwasher safe!
•The grip-friendly silicon sleeve is BPA/BPS free and made with medical and food grade silicon to prevent damage. The sleeve does not have to be removed when washing, which makes cleaning your Kupp' very simple.
•The adorable Kupp' is designed to resemble a smile so kids are naturally attracted to it!
•The retail price of the Kupp' is $16.99 each.
I'm all for reusing and recycling! Be sure to check these out!
I received this product for free from the sponsor of the Moms Meet
SM
program, May Media Group LLC, who received it directly from the manufacturer. As a Moms Meets
SM
blogger, I agreed to use this product and post my opinion on my blog. My opinions do not necessarily reflect the opinions of May Media Group
LLC or the manufacturer of the product
.