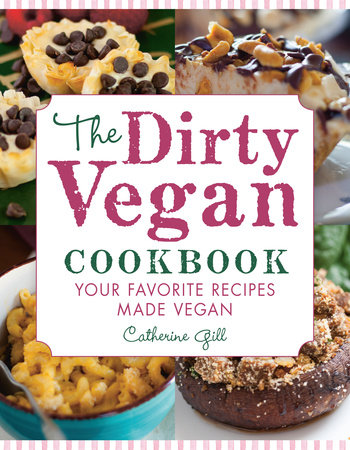 GIVEAWAY CLOSED - WINNER BELOW!
True Random Number Generator
1
Powered by RANDOM.ORG
This cookbook would make a great holiday gift for anyone! When I was in high school, we would visit our local co-op and order local and organic food. That's where I first learned about the vegan lifestyle. For far too long, we viewed that lifestyle one of a limiting diet, with a lot of restrictions. The Dirty Vegan Cookbook by Catherine Gill offers alternatives to recipe favorites, all while incorporating the vegan lifestyle
The Dirty Vegan features over 100 recipes that are tasty, creative and VEGAN! Recipes include
Vegan Ravioli Dippers, Avocado and "Bacon" Chees, Cheddar Bread Ring, S'mores Pancake, "Steak" Tips and Sweet Potatoes, Italian Wedding Soup and Vegan Dark Chocolate Peanut Butter Blossoms. The photographs are visually appealing and helpful, the recipes are easy to follow and can easily be made with ingredients from your local grocery store.
We tried the Garlic and Caper Roasted Cauliflower which was absolutely delicious and creative. I'm anxious to try more recipes!
Buy It! You can grab your own copy for The Dirty Vegan here. It retails for around $12. Follow Catherine Gill on Instagram, Pinterest, and Twitter to be "In The Know".
I'm excited to let you know that I'm giving away one copy of The Dirty Vegan for a Barefoot by the Sea reader! Simply comment below and enter for your chance to win! Winner chosen on 12-15, US Only, 18+
**Please note, I did receive a copy of The Dirty Vegan for the purpose of this review but all opinions, as always are my own**